Are you missing teeth? Even one missing tooth can make you feel like you're missing out on things like eating your favorite foods or smiling with confidence. At Marino Family Dental, we can help restore your smile permanently with the help of dental implants. Dr. Marino can place your implant and get you fitted for a restoration to complete your smile. Want to know if dental implants are right for you? Come in for a consultation with our team!
What are implants?
Our patients tell us that they love dental implants for replacing teeth. Dental implants provide a number of benefits:
Provide permanent tooth replacement
Avoid use of loose, removable prosthesis
Look, feel, and function like natural teeth
Prevent bone loss associated with tooth loss
Improve appearance and speech
Dental Implants Process
At our Lauderhill dental office, the dental implants process takes place over multiple appointments. We feel confident that, after all is said and done, you'll think your new smile was worth the effort.
To start, we bring you in for a consultation to go over your needs and lifestyle. We'll work with you to determine if implants are right for you, and if they are, what the best restoration option is for your unique needs. During your placement appointment, we surgically place the implant into the jawbone in place of the missing tooth. Because the implant is made of titanium, a biocompatible material, it will fuse with your jawbone to essentially become a replacement tooth root. Since this is a surgical procedure, we can provide sedation to keep you comfortable while we work.
Once the implant has fused with your bone (usually happens within a few months), we bring you back in to make sure the implant looks sturdy and begin to prep you for your restoration. We'll take molds to ensure that the design of your restoration is exactly what you need. Once your restoration is back from the dental lab, come in for a fitting and placement. With your restoration placed, you're all set! You can head out of our office that day confident in your new smile.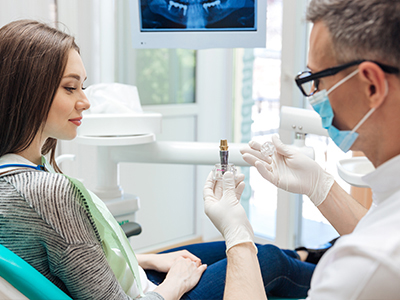 Our Location
4506 N University Drive

Lauderhill
,
FL
33351
New Patients:(954) 651-9312
Existing Patients:(954) 368-7500
Follow Us